Sunday, 8-07-22: Heat, carpentry, turds, etc.
Man, it's hot. HOT. FUCKIN' HOT. 90 degrees already, and not even noon. What a bunch of crap! We've been in the middle of some serious heat that doesn't seem to want to quit. Wednesday was our "coldest" day out of the last week: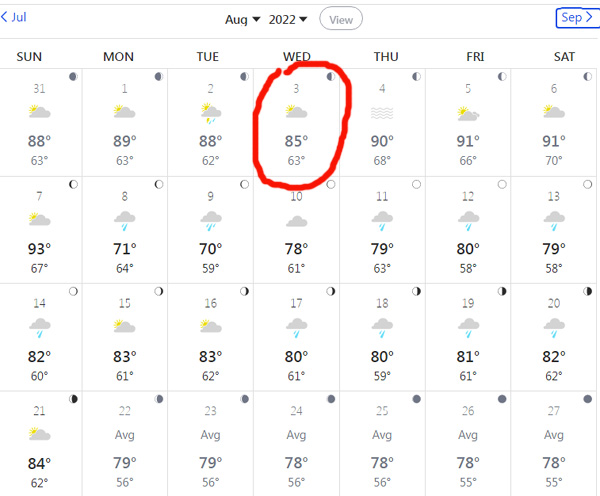 85 degrees is far from cold, but it felt a little better and it was the perfect day for a trip down to the coast. Kat and I mostly took the day off and went down to Searsport with Damon for a very nice, small getaway to a little place called Mossman Park. It's not a huge, sandy beach, but it is a nice spot to sit by the ocean and walk around some on a sandbar that's only accessable at lower tide cycles.
The kitchen and dish area in the restaurant is incredibly hot, and I had to help wash dishes for a bit yesterday PM and was soaked in sweat after about 45 minutes. What a bunch of crap! We know of a couple local restaurants that aren't even opening today due to the heat. I think we can stay open all day. Maybe? Hopefully! We do have good air-flow in our kitchen so we'll see how it goes. If the cooks start to tap out we will shut it down and just do salads, desserts, and cold sandwiches.
A heat wave around here usually only lasts a couple or three days before a front brings in cooler air, but not this year. Thankfully this is the last 90+ day for a while, if not for the rest of the year. 70 tomorrow with rain = ME WANT. It's been too hot to do much outdoors. Gavin was on vacation last week so I did some carpentry for him, a bit of siding out back, but we were only able to go play racquetball for a couple games Tuesday before the heat shut it down. We didn't even bother to play this weekend becaause of the heat. Jogging in this? NOPE.
Gavin did want me to do some sheetrock work in a new stairwell that he built, but he's not ready so this coming week I'll do some more work at the restaurant until he is ready for me. I also have to get serious about a quote for a new sewer line to the street here at our house. I needed Nichols Plumbing to come Friday to snake it out and to send in the camera. It was plugged up, but thankfully not as bad as the first one we had from a couple years ago. That one was HORRIBLE with turds all over the cellar floor. I have the photo somewhere in the archives, but it's not worth finding because it's a bunch of crap!
We have "orange berg" leading from the house to the street, and there is about a 14-foot section that has a dip. Plus there is a rock partially blocking some of it in another area. It's good for now, but it will plug again if I don't get it replaced. Sadly it might cost $10k to have done since we need to dig down 7 feet and probably go through a section of city sidewalk. Gods damn it! Ah well, I should've had it done a couple years ago but the restaurant took up too much of my precious... precious time.
The restaurant is doing better in terms of overall food sales, but worse in terms of alcohol. It seems we are more a restaurant and a little less of a bar these days. We still do have some great, busy nights, but not as busy as this time last summer for Friday and Saturday nights. There are more concerts this year over in Bangor (just 2 miles away), there are a couple more bars open now that do karaoke, and we are in a recession. The economy sucks, but the White House doesn't want to admit it. Gas was $5/gallon and now it's closer to $4.50. Still too expensive. Heat is gonna cost a lot this winter, too.
The Red Sox fuckin' suck lately and are in last place. Even the Orioles are better. What a bunch of crap! 54-55 is not going to work for playoff contention. They could rattle off 10 wins in a row and get back in it, but considering they were something like 6-17 in July and are terrible so far this month that seems highly unlikely. What a bunch of crap!
I'm not on the schedule for work today, but we have a server out this PM so if it gets busy I'll be helping. I plan to go back down to the restaurant (I was there earlier for a while) to work anyway, and if it's slow I can do some paperwork or carpentry. The employee bathroom still isn't done because I suck. It's really hot back there right now, but there is an A/C near the equipment rack that I can cool off in front of. I'm hoping to get that bathroom done this month along with several other things on my list.